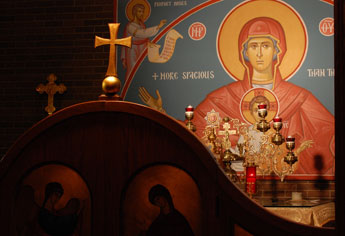 Welcome to the website of St. George Antiochian Orthodox Church of Boston, MA. Our community has been a place for faith and fellowship for over a century. We welcome you to browse the site to learn more about our parish.
We are a parish in the Diocese of Worcester and New England and our Bishop is His Grace Bishop +JOHN Abdalah. We are a Diocese of the Antiochian Orthodox Christian Archdiocese of North America and our Metropolitan Archbishop is His Eminence Metropolitan +PHILIP Saliba.
This holy ascetic, newly glorified in 2011, was born Sophia Saoulidi in 1883 in the village of Trebizond in present day Turkey. In 1907, she married Jordan Hortokoridou. Seven years later, her husband disappeared under mysterious circumstances during a period of increased Moslem anti Christian strife. Sophia was left to care for their newborn son. Not long afterward her beloved only son also died. Turning from the world, she placed all her trust in God, spending her time in solitary prayer on a mountain near her town.
In 1919 she arrived in Greece as part of the "exchange of populations" between Turkey and Greece.