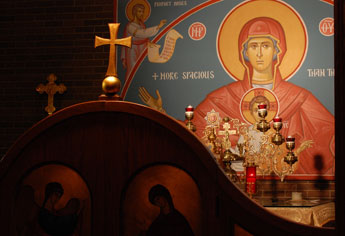 Welcome to the website of St. George Antiochian Orthodox Church of Boston, MA. Our community has been a place for faith and fellowship for over a century. We welcome you to browse the site to learn more about our parish.
We are a parish in the Diocese of Worcester and New England and our Bishop is His Grace Bishop +JOHN Abdalah. We are a Diocese of the Antiochian Orthodox Christian Archdiocese of North America and our Metropolitan Archbishop is His Eminence Metropolitan +PHILIP Saliba.
September 21
Mesopotamia - 9th century BC

"The word of the Lord came to Jonah son of Amittai: "Go to the great city of Nineveh and preach against it, because its wickedness has come up before me." [Jonah 1:1]. Counted as one of the twelve Prophets, the story of Jonah is told in the book of the Old Testament that bears his name. According to Orthodox tradition, based on ancient Hebrew writings, he was the son of the widow of the village of Zarephath, who was resurrected by the holy Prophet Elias [1 Kings 17:21].