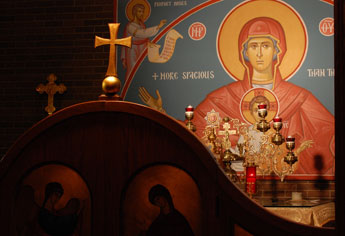 Welcome to the website of St. George Antiochian Orthodox Church of Boston, MA. Our community has been a place for faith and fellowship for over a century. We welcome you to browse the site to learn more about our parish.
We are a parish in the Diocese of Worcester and New England and our Bishop is His Grace Bishop +JOHN Abdalah. We are a Diocese of the Antiochian Orthodox Christian Archdiocese of North America and our Metropolitan Archbishop is His Eminence Metropolitan +PHILIP Saliba.
May 4,
Born 250 AD - Died 304 AD

St. Florian, a convert to Christianity and a Roman soldier, was born in Austria in 250. He was a leader of a military fire brigade. Fire in Ancient Rome was an ever present danger. There were groups of watchman who patrolled the streets watching for unsupervised fires.