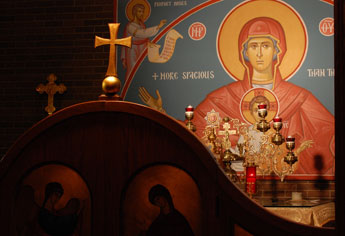 Welcome to the website of St. George Antiochian Orthodox Church of Boston, MA. Our community has been a place for faith and fellowship for over a century. We welcome you to browse the site to learn more about our parish.
We are a parish in the Diocese of Worcester and New England and our Bishop is His Grace Bishop +JOHN Abdalah. We are a Diocese of the Antiochian Orthodox Christian Archdiocese of North America and our Metropolitan Archbishop is His Eminence Metropolitan +PHILIP Saliba.
1914 - 2003
August 4

He was born Andrei Borisovich Bloom on the 19th of June 1914 in Switzerland, where his father was serving as a member of the Russian Imperial Diplomatic Corps. His mother was the sister of the Russian composer Alexander Scriabin. Molotov, Stalin's comrade, was also a relative. Shortly before the First World War, the family returned to Russia, but soon left again for a diplomatic assignment in Persia. His vivid memories of Persian shepherds, "minute against the hostile backcloth of the vast Persian plain" while protecting their flocks, made him a convincing preacher on the parable of the Good Shepherd.
Archbishop Joseph Elected Metropolitan of All North America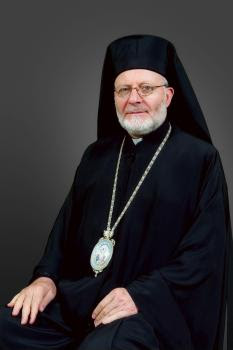 His Eminence Archbishop Joseph has been elected Archbishop of New York and Metropolitan of All North America by the Holy Synod of Antioch, meeting in Balamand, Lebanon on Thursday, July 3, 2014. Axios!
His Eminence Metropolitan Joseph was consecrated to the Holy Episcopacy on June 30, 1991 at the St. Mary Cathedral in Damascus, after many years of serving as a deacon and a priest. His Eminence was born in Damascus, Syria, in 1950. His Eminence was consecrated with the title, Bishop of Katana in Syria, and served as Patriarchal Assistant and Secretary of the Holy Synod of Antioch. In 1995, he was sent by Patriarch Ignatius to America. Here, in our Archdiocese, Bishop Joseph was assigned to the West Coast Chancery by Metropolitan Philip. After self-rule status was awarded to our Archdiocese, Bishop Joseph was enthroned at St. Nicholas Cathedral by Metropolitan Philip as the first Bishop of the Diocese of Los Angeles and the West on September 12, 2004. On December 11, 2011, at the Church of the Dormition of the Theotokos in the Patriarchal Monastery of Our Lady of Balamand in Lebanon, Patriarch Ignatius elevated Bishop Joseph to the rank of Archbishop, in honor of his many years of service as a bishop both in our Archdiocese and in the Patriarchate of Antioch.