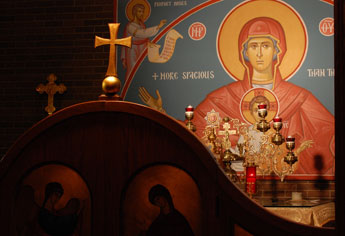 Welcome to the website of St. George Antiochian Orthodox Church of Boston, MA. Our community has been a place for faith and fellowship for over a century. We welcome you to browse the site to learn more about our parish.
We are a parish in the Diocese of Worcester and New England and our Bishop is His Grace Bishop +JOHN Abdalah. We are a Diocese of the Antiochian Orthodox Christian Archdiocese of North America and our Metropolitan Archbishop is His Eminence Metropolitan +PHILIP Saliba.
Alaska 1815
December 13

Peter was a young Native American of the Aleut tribe who inhabited the Northwest and Alaska. He converted to the Orthodox faith thru the preaching of the first Russian Orthodox missionaries who arrived in Alaska in 1774. In 1812 the Russian- American Company set up a trading post in northern California, where Russians and Aleuts farmed and traded to supply the needs of the Alaskans; Peter was one of these. The Spanish, who at the time ruled California, suspected the Russians of territorial ambitions and in 1815 captured about twenty Orthodox Aleuts and took them to San Francisco.