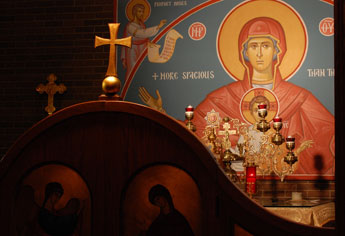 Welcome to the website of St. George Antiochian Orthodox Church of Boston, MA. Our community has been a place for faith and fellowship for over a century. We welcome you to browse the site to learn more about our parish.
We are a parish in the Diocese of Worcester and New England and our Bishop is His Grace Bishop +JOHN Abdalah. We are a Diocese of the Antiochian Orthodox Christian Archdiocese of North America and our Metropolitan Archbishop is His Eminence Metropolitan +PHILIP Saliba.
(1867)
Bishop of Stavropol and Kavkaz – Russia
April 30
St. Ignatius was born in 1807 into Russian aristocracy — his father was a wealthy provincial gentleman. From a very early age he felt strongly called to monastic life, but at that time it was almost unheard of for a nobleman to take such a path, and Dimitri (as he was called in baptism) entered the Pioneer Military School in St Petersburg. There he distinguished himself, and even attracted the attention of Grand Duke Nicholas Pavlovich, an event which would profoundly affect his later life.