Home
News and Announcements
---
Upcoming Services & Events
Sunday, April 5
5th Sunday of Lent - St. Mary of Egypt
+Mahiba Barbar - 40 Day Memorial
Friday, April 10
4:30 pm
Little Compline w/ Canon of St. Lazarus - ONLINE
Saturday, April 11
10 am
Divine Liturgy - ONLINE
Sunday, April 12
Bridegroom Matins - ONLINE - Time TBA
Livestream Services Online
During the shelter at home restrictions from the Covid-19, we will livestream our services on our Parish Facebook page. Everyone can view the videos even if you don't have a Facebook account. Please click the link below to go to the livestream.

Schedule of Services
Following the directive of His Eminence Metropolitan JOSEPH and the directives of the State and Federal governments restricting gatherings to less than 10 people, the Akathist services on Friday evenings and the Divine Liturgy on Sunday mornings will be broadcast over the internet. Only the priest, chanters, and Altar Servers will gather in person. We ask the faithful to pray from their homes and view the services livestreamed through our our parish Facebook page.
Akathist: 4:30 pm Fridays
Orthros: 8:50 am Sundays
Divine Liturgy: 10 am Sundays
Consult our calendar of events for Feast Days and other additional services
---
Donate Online
Make your Stewardship Pledge, General Donations, Great Lent & Pascha Offerings online using the secure link below "In memory of" or "For the health of" loved ones.
Join the Parish Email List
Receive parish announcements direct to your inbox by subscribing to the Parish Email List. Click here to join.
Receive The WORD Magazine
How do you prefer to receive The WORD Magazine? Click here to choose email or hard copy.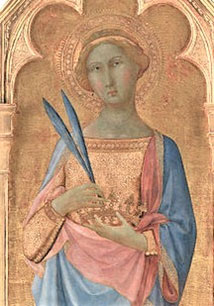 St. Corona was an early Christian martyr of the mid second century who lived in the Roman province of Syria. In Latin her name means 'crown' the Greek translation of her name is 'Stephanie' – sometimes she's referred to as St. Stephanie.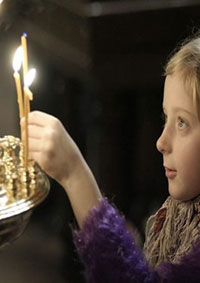 The virus has infected all of us with confusion, uncertainty and fear. The seriousness of our medical and societal questions intensifies as the curve of infection rises. Projected to peak sometime later this month we remain awestruck by the enormity of this pandemic. As believers and people of faith, the crisis raises additional, more profound questions. The Church does have historical experience with ministry in times of crisis, even pandemics. Here are a few tips gleaned from the tradition, liturgy and teaching of the Church.