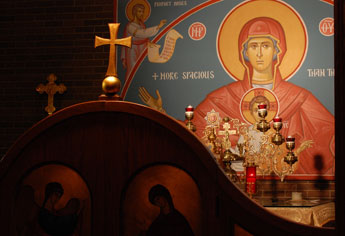 Welcome to the website of St. George Antiochian Orthodox Church of Boston, MA. Our community has been a place for faith, worship and fellowship for over a century. We welcome you to browse the site to learn more about our parish.
We are a parish in the Diocese of Worcester and New England and our Bishop is His Grace Bishop +JOHN Abdalah. We are a Diocese of the Antiochian Orthodox Christian Archdiocese of North America and our Metropolitan Archbishop is His Eminence Metropolitan +JOSEPH (Al-Zehlaoui).
"ST. GEORGE WEEK-END UP-DATE We celebrated our traditional annual St. George Week-End on 14-15 April"


Schedule of Services
Great Vespers: 5:30 pm Saturdays
Orthros: 8:50 am Sundays
Divine Liturgy: 10 am Sundays
Summmer Hours begin July 1-September 2 with Orthros beginning at 8:00 am, followed by Divine Liturgy at 9:00 am


Consult our calendar of events for Feast Days and other additional services